Honoring Leslie Lupinsky
POSTED ON JANUARY 12, 2022
Late last year, the CTI family lost a beloved member: Leslie Lupinsky. Leslie was a faculty member who had been with us since the very beginning. This blog serves to honor her memory and offer as a tribute the beautiful impact she had on the world around her.
A faculty member since the mid-1990s, Leslie was a front of the room leader, certification supervisor, certification program leader and examiner for CTI. She was involved in CTI's business training for decades, from her involvement in our early Jumpstart program to our Inspired on Demand webinars. In 1995, Leslie was a member of the Wands Leadership Tribe, along with Judith Cohen, Elaine Jaynes, Jim Patterson, Cynthia Loy Darst, John Vercelli, Keri Kuerbis Lehmann, Leza Danly, Jeanine Mancusi, Susan Berland, Sue Coleman, and Ricki Rush.
Leslie – a Master Certified Coach – provided over 8,000 hours of professional coaching to her clients over 24 years. One of her specialties was working with coaches and consultants who want to grow their business with integrity and heart. Leslie was the co-author of The Inspired Business Approach: Building Your Business from Inspiration, not Perspiration.
Since Leslie's passing, we have been gathering memories and tributes to her from the CTI community. The loving words were voluminous, and it's hard to do full justice to their spirit here. But here is a selection of tributes to Leslie, loosely grouped around some of her most enduring qualities and skills.
Remembering Leslie's Spirit & Energy
"She uses her whole self — mind, body, intellect, emotions, spirit — to make us, the world a better place... I do not like referring to a person who has died in the past tense... Leslie is so alive in my work, in my life, in stories I share with clients and others that come from her. Leslie is vibrant, joyful, life-giving, funny, serious, a danger, a charm, an eccentric, an intelligence, and an inspiration. What a gift you are, Leslie!"
Richard L. Warren
"Leslie and I led a CTI Fundamentals course in England, around 1999 or 2000... I hadn't yet realized the importance of the necessities to make travel from home feel more like being at home: candles, special pads for sitting on, and all kinds of other important home accessories. I remember how she totally delighted our somewhat reserved British participants with her eccentric and heart-warming manner. I will miss you, dear Leslie!"
Sam House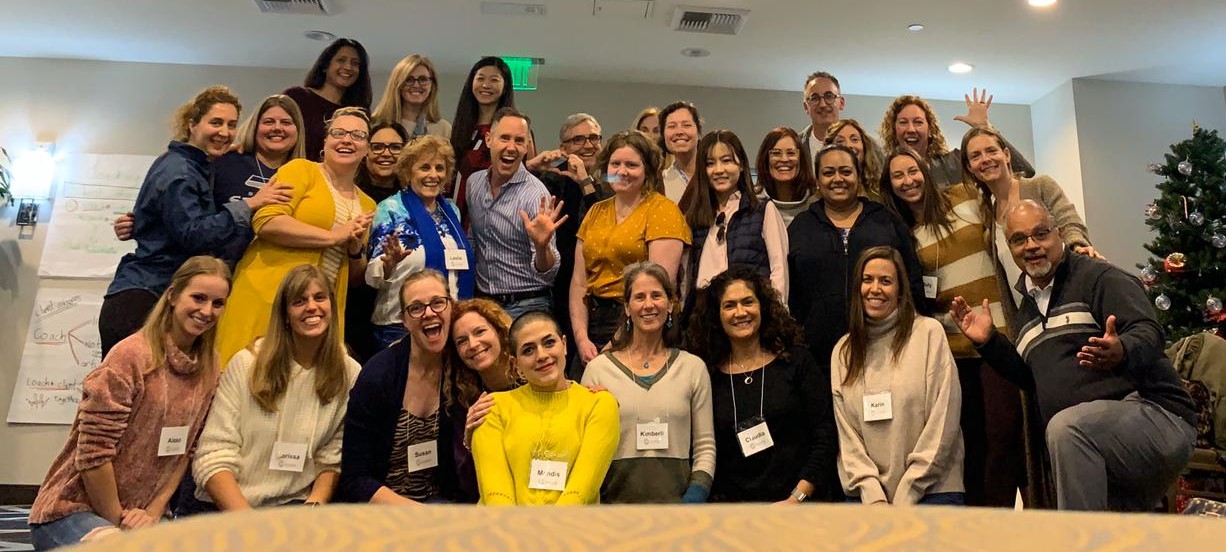 "Leslie Lupinsky was one of the best people I've ever met. Period. She was fun, hilarious, so smart, incredibly empathetic, and completely generous. I had the pleasure of being coached by her for a few years and that coaching changed my life. I plan to keep her in my heart by always thinking, 'What would Leslie Lupinsky do?' Most likely something really special."
Shayna Casey
"It's rare to see someone so flamboyant that is also so humble and kind. And so strongly present. The training was profound for me. I attribute a lot of that to her. I only knew her for a few days, but she left a strong memory with me. I hope that her family, friends, and colleagues are comforted that she was able to do what she loved for many years helping so many people. Love, peace, and prayers to those who were closest to her."
Ken Hoffman
"Leslie Lupinsky touched my heart, made me think and made me laugh. She was a great cheerleader. An amazing coach. Insightful and generous of spirit. I knew her for a relatively short time during which she helped me get through some of those awful bouts of self-criticism. She believed in me, coached me to believe in myself and encouraged everyone around her to be happy or at least happier."
Carol Green
"Leslie saw the light and spark in people, even if it was covered up. She shared her heart, her vulnerabilities and her zest for life for all her students. She was a treasure and will be greatly missed on this earth plane. I see her dancing in heaven!"
Ginger Legon
"Leslie used the news of her cancer to get us to coach her collectively, using process and levels of listening. Most of us cried as we coached her through processing this news and it was a very raw and vulnerable experience for us all. That day she taught us what it means to be a complete human being in this life and what it means to coach like you give a damn."
Martina Gobec
"We also loved her sense of humor. Leslie's subtle dance moves to the sound of castanets will always be fresh in our memories. The most important message from Leslie to keep in our treasure chest: Be you."
Poonam Sharma
"The joy that Leslie brought to my life still reverberates like a massive copper gong, filling the air with beauty and vibrating through my cells to shake off sadness and misery. Leslie in person was red, lively, spicy, warm, clever, funny, mischievous and insistent. Leslie in my heart and my soul is the same way, and I will keep her with me forever."
Myriam Beekman
"Leslie was a guide into how I want to live and the attitude I would like to hold, and for that I am forever grateful. Rest peacefully and keep dancing, Leslie!"
Ranya El-Farnawani
"I cannot begin to describe all that Leslie brought to my life — her impact upon me continues as I reflect and remember her. She was my teacher, my coach, and over the course of our 20 year relationship she became my colleague, my friend, and ever my inspiration.
In our last conversation, in early October, she told me how 'alive' she felt, how much more she had to give. Leslie modeled for me how to be awake and ever engaged in life to be a 'contribution.' She was a loving presence in this world, who touched and inspired so many. I know that I am better because she was present in my life."
Paula Sbragia-Zoricic
Remembering Leslie's Impact as a Front of Room Leader
"Leslie was my group supervisor in certification even as she was dying. She freely shared her challenges and struggles but what I remember is how she shared her zest for life! She was generous and supportive to us without regard to what she was dealing with. Later, I volunteered to assist a fundamentals course she was leading. I know we were reconnected for a reason. It is now so clear. She had one more lesson to teach me. Absolute faith. She never let on to our participants that she was sick. She gave it her all. I will be inspired by her life force for the rest of my days. I am so grateful I knew and was taught by Leslie Lupinsky."
Lisa Hallee
"The magnetic and magical Leslie Lu!!! She was one of my very first FORLs. I was inspired by her zest for life and courage to create a new, more aligned life for herself in Mexico. I assisted her a few times and was struck by her big heart and commitment to the learning. And then I got the opportunity to co-lead with her. What joy and creativity, fun, aliveness...we danced, we sung and we co-activated our room of eager young coaches. Leslie, you will be missed but never forgotten. Thank you for the legacy of love + dance you leave behind. XOXOX"
Christie Mann
"Leslie was all about fun, love, connection and learning. She brought kindness and delight to every moment in her beautifully eccentric and quirky way. She was constantly creating new ideas for learning and growing coaches. I wish I had a nickel for all of the times Leslie would say, 'Can I show you something?' And then she would trot out some new program she had just developed."
Cynthia Darst
"Leslie was my co-leader for one of my first leads at CTI. At the end of a rather emotional coaching demo that I did, the person I coached didn't get up and go sit down, even after I thanked her for coming up to be coached by me. She just sat in her chair, staring at me. I was a little annoyed, and it felt very awkward... I'll never forget what Leslie said: 'Think about the work that we do as being a good party host. Guests don't know, metaphorically, how the party is supposed to work: where the food is, where to hang their coats. Maybe they're nervous to talk to people they don't know. If you want to be a good host, sometimes you have to escort people back to their chairs.' It was one of the most poignant, effective pieces of feedback I'd ever received: to be a good coach, a good facilitator, leader, a friend, a partner: just be a good host."
Jeff Jacobson
"You took time to connect with each of us before our program began — just to connect and allow us to share our feelings of trepidation, excitement, or overwhelm before we got started. Throughout our time together I was touched by your humanity, your openness, and your care."
Tim Fortescue
Remembering Leslie's Pioneering Business-Building Webinars
"When we were writing our book The Inspired Business Approach together, Leslie would call me every Monday morning for 3 months to talk me into writing, inspire me to keep going, champion and appreciate me. She was the engine that kick started the vehicle so it could get done. She never gave up and unconditionally believed in me. She was a rock, reliable, tenacious and above all a loving woman."
Joni Mar
"I met Leslie when I enrolled in Inspired on Demand's business building program back about 10 years ago. Oh how I loved her! I had been CTI certified prior to the curriculum change that replaced the Future Self concept with the Captain, and as I got to know Leslie, I realized that she was MY FUTURE SELF. I wanted to be just like her: lively, engaging, courageous and a little outrageous, colorful and fun. Leslie made the world a better place with her energy, thoughtfulness and generosity. Long live the spirit of Leslie!"
Jenny Warila
"I had heard so many awe-inspiring stories about her that by the time she coached us in our coaching circle, she was already a legend. Leslie challenged me to grow and take risks. As I was coaching a client today, I heard Leslie whispering in my ear, 'Challenge her! She can take it and will be better off because of that challenge.' I did. I feel honored to have experienced Leslie's feedback and support in the last year of her life."
Betsy Pickren
"Leslie blew me away with her fierce love and powerful modeling and teaching. I felt such warmth and inspiration for and from her. The feeling is still in my bones today. While in the early days of starting my coaching business, I took her business development class and I hired her as a coach/mentor and continued to feel so held and nourished by that connection. She found a way to help me within my limited budget at that time and I'm so grateful. She's definitely part of why 12 years later I have a thriving business and feel confident in my coaching."
Val Nelson
In Closing: A Poem in Remembrance
"Walking with Leslie"
by Miriam Linderman
Dearest Leslie
my flamboyant
flamenco-sparked
first coach
fiery
whirling
wildly unbound Leslie
bright
red
vibrant
uncontainable flame of passion
whose love and smile lit the skies.
You wanted everything for us.
My heart aches
with the news
of your passing.
Your spirit sits with me,
makes me curious to hear
what you will tell me
from where you are now.
Let us walk by the emerald water.
There is so much to say.