What Is a Business Coach And Why Do You Need One | Co-Active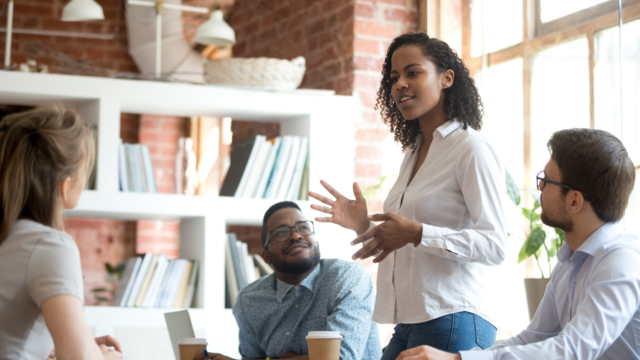 I call myself a business coach when talking to people who are curious about what I do. It is a simple title that most people seem to understand and that helps to bridge the gap between ignorance about what coaching is and informing the public about the benefits coaching offers.
But when you drill down into the term business coach, you will find there are a variety of meanings and ways that businesses use coaching to achieve great results.
After I became certified by the Co-Active Training Institute, formerly the Coaches Training Institute, one of my very first coaching niches was working with entrepreneurs. I loved using my coach training to help entrepreneurs face the challenges that were holding them back in their business so they could move past them to create a livelihood they loved. Read on to hear the wisdom I've gained from working as a business coach.
What Is a Business Coach?
In the most basic terms, a business coach is someone who coaches people who are running a business. But what do business coaches do? Well, business coaching is much like relationship coaching — only instead of coaching two people in a relationship, you are coaching your client and the business they are running.
Business coaches help owners and employees with a myriad of challenges that vary according to the type of business. What makes hiring a business coach worthwhile is easy to measure, and that is why business coaching has become very popular. Business coaches help owners to grow their business in a way that is profitable, sustainable, and aligned with what is most important to the owner. This usually means clients learn to use their time optimally, stop taking unnecessary actions, delegate more, and focus on using their strengths.
A business coach will work with their clients to help them see their blind spots and create achievable action plans and ways of being that grow both the client and the business.
Business Coaching: Creating Powerful Confidence
One of the most important aspects of business coaching is the partnership created in a coaching relationship. With a business owner, the weight of "the buck stops here" can be heavy.
Having someone in their corner supporting them to achieve clear results with built-in accountability helps the clients grow their profits. This makes hiring a business coach a smart investment.
It was only as I coached an unlikely businessperson that I realized what I was doing was business coaching. This unlikely client was my husband. He had a successful fruit business that had grown tremendously in just a few years, and he often found himself overwhelmed by the responsibility of all the various tasks at hand.
He had been supportive of my coach training with CTI and encouraged me to start my own coaching business. He had, however, never considered himself a candidate, until one day when he was totally exasperated at the end of a long day.
I offered to coach him. Not to give him advice or a shoulder to lean on, but to actually put on my coach hat and use the training I had received to work with him like I did with my clients.
Out of desperation, I guess, he said yes! We designed an alliance and set the framework for a coaching session.
Then I coached him on his business. At the end of our 30-minute session, he told me that he should be handing me a $5,000 check. He had gained clarity about the issues and what actions he could take.
More importantly, he felt confident in himself, not only about his next steps. Co-Active coaching focuses on the whole person, so he saw he had been tripping himself up in the past and was clear on who he needed to be in the future as he ran the business.
He went on to work with another coach after that, but often referred to that coaching session as having been a pivotal moment for him in his leadership of his business.
Business Coaching: The Co-Active Difference
This is where the Co-Active Training Institute's coach training stands out. What I have discovered in helping thousands of entrepreneurs as a business coach is there is a special way Co-Active coaches work with people, to unlock their potential and help them learn and grow in ways they never thought possible.
My clients often tell me that one of the most valuable aspects of having a business coach as opposed to hiring a consultant is the coaching focuses on them, not their myriad of problems. Most business owners get mired down in problems, putting out fires, and burning the candle at both ends.
Business coaching, using the Co-Active model, helps them find the answers to these problems themselves, to use their own creativity and resourcefulness to avoid them in the future. To utilize their strengths. To do what all successful CEOs do — spend time accessing their own wisdom, vision and knowledge to bring their best to the business they care about so much.
Why Is Business Coaching Important?
Running a business, whether it is large or small, requires leadership. Here are a few of the benefits of hiring a business coach trained in the Co-Active model.
Awareness of inner resources
Ability to shift sabotaging habits
Utilizing strengths
Honoring top values
Reaching financial goals
Expanding your business in new ways
Accountability partnership to get the results you want
Learning from both failures and success so you can keep moving forward confidently
What you can expect from a business coach is as varied as the clients and businesses themselves. With entrepreneurs, a business coach often wears a mentor hat, bringing their own experience, expertise, and know-how to their clients when needed. Sometimes, this even includes coaching the clients on best practices for starting and growing a business.
For bigger types of enterprises, a business coach might help their clients manage a team, expand in their leadership, and grow personally as they take their business to new heights.
The First Step in Becoming a Business Coach
If you are looking to start a coaching business, having a coach is even more essential. A coaching business has the potential to be a lifelong profitable endeavor. It is like other businesses in some ways: it needs structure and systems, and you will need to learn about marketing and sales.
But it is also different in that it is heart-based. You are helping people on a deep level. Most coaches are also committed to staying true to their own path, their own way of doing things. This is why they became coaches!
Having a business coach gives them the guidance they need to succeed on their own terms while using proven business strategies. It also helps them to practice what they preach. Having a coach is always a good move!
More than a consultant, who may offer advice that the client doesn't want to take, a coach can help the client learn about their own way of doing things and how to utilize their personal strengths for the sake of the business's success and their own fulfillment.
At the end of the day, this is why most people start their own businesses — so they can be the boss! A business coach can support them in creating fulfilling work that is financially successful, which makes having a business coach an essential asset.
Hiring a business coach can make the difference between success and failure. It always supports the sustainability of the business and the fulfillment that's possible for the client.
How about you? Have you previously worked with a business coach? Or do you want to start offering your services as one? Please share your experience in the comments section below!