Coach Training
Experiential, transformative learning from a worldwide leader in professional coach training.
Co-Active Professional Coach Training
Co-Active Professional Coach Training is widely recognized as the most rigorous professional coach training and certification program in the industry. As the largest and most established in-person professional coach training organization in the world, CTI has trained over 62,000 coaches, including employees in more than a third of the Fortune 100 companies.
This program will prepare you to coach anyone, on any topic, with confidence, supported by the Co-Active Model, known as the most flexible and proven model in the coaching world.
After completing the first 2 steps in our coach training program (Fundamentals and the 4-course core curriculum), you will be ready to embark on your Professional Coach Certification to continue your path to coaching mastery. After completion, you will earn the prestigious designation of Certified Professional Co-Active Coach (CPCC), respected worldwide as the gold standard of coaching.
Step One: Fundamentals of Co-Active Coaching
2019-2020 Coach Training Calendar
See all series dates and cities for our 2019-2020 Professional Coach Training Core Curriculum courses.
50% of Coaches
Each year, over 50% of new professional coaches are trained by CTI.
62,000+ Trained
CTI has trained over 62,000 coaches, consultants, and leaders worldwide.
Fortune 100
CTI has trained employees in more than a third of Fortune 100 companies.
ICF Accredited
Our Co-Active Coach Certification is accredited by the International Coach Federation (ICF).
Training Experts
Every course is co-led by two members of our elite training faculty. They are trained to be experts serving the people and context in front of them—keeping content relevant and real, because coaching happens in the real world.
Innovative Learning
No seated lectures! Instead you will practice, embody, and remember the skills you are learning, through the innovative Co-Active experiential learning process, which is scientifically proven to make learning stick.
Coaching Confidence
We offer training that's designed to give you an experience of yourself coaching and leading others with fluidity and confidence, in any coaching situation and for any topic. Experience coaching confidence that comes from being supported by the renowned Co-Active Model.
New Perspective
Experience transformation in the way you relate to, and work with, other people—empowering them as naturally creative, resourceful and whole, capable of finding answers to their own challenges.
Experiential learning is the most effective method of adult learning.
Co-Active Coaching skills + applications
How to engage with your clients, team members, and colleagues in ways that cultivate trust, catalyze self-discovery, enhance insight, and inspire movement into bold action.
Leverage "coaching moments"
How to integrate "coaching moments" into daily conversations, creating deeper connections.
Create relationships of trust + action
How to lean into others because you're provided a safe, experiential learning environment that fosters space for intimacy.  This opens the door to be in "full permission" with yourself, to practice listening to your intuition.
Design alliances
How to design powerful alliances with your clients and others, geared toward maximizing learning and results.
Transcend limitations
How to—instead of focusing on limitations—hold out the biggest picture possible of what we and others can be.
Know (and own) your impact
How to understand your impact on others and the world around you, stretching yourself in ways you could never imagine.
What is Co-Active?
The Co-Active Model is the most widely used model in the coaching industry. Our scientifically based methodology provides a simple, intuitive framework for human interaction that creates profound results.
Overview
Our Co-Active professional coach training journey has three steps.
Step 1
Fundamentals of Co-Active Coaching
The first step in your professional coach training journey begins with the 2.5-day course, Fundamentals of Co-Active Coaching, which sets the foundation introducing the Co-Active Model, while teaching powerful coaching and communication techniques. The focus is on participation, with numerous opportunities to practice coaching and receive feedback on your newly acquired skills. Fundamentals is so versatile in its application, we recommend it to anyone seeking practical systems for managing relationships with others, even if your goal is not to become a professional coach.
Step 2
Co-Active Coaching Intermediate Series
The Co-Active Coaching Intermediate Series continues to build on your learning from Fundamentals of Co-Active Coaching with a series of 3-day courses that explore essential coaching principles: Fulfillment, Balance, Process, and Synergy. This deeper, more immersive level of training fosters expansive development, at both a personal and professional level. Build a coaching framework, integrate your learning, and gain competency in Co-Active coaching, one of the fastest-growing, most in-demand leadership skills.
Step 3
Certified Professional Co-Active Coach (CPCC)
After completing Fundamentals and the coach training Intermediate series (Fulfillment through Synergy), you are eligible for Professional Coach Certification. This in-depth, 6-month virtual program is accredited by the International Coach Federation (ICF) and will prepare you for a career as a professional coach.  With individual supervision and feedback, participation will help you build your coaching business, hone your coaching skills on a deeper, more skillful level, and prepare you to earn the Certified Professional Co-Active Coach (CPCC) designation, one of the most highly respected and sought-after certifications in the coaching industry.
Co-Active Coach Training Core Curriculum
The Co-Active Professional Coach Training Core Curriculum comprises five in-person courses (Fundamentals of Co-Active Coaching plus the Intermediate series). Each course is taken in order and builds on the learning of its predecessor. The entire curriculum is usually completed within 5 months.
Co-Active Professional Coach Certification
Once you've completed Steps 1 and 2 in the Co-Active Professional Coach Training Core Curriculum, you are eligible to advance to Step 3: Professional Coach Certification.
CTI's training is phenomenal! One of my primary reasons for choosing it was because of its experiential component. With CTI, you are coaching from the very beginning of your training, building skills and practicing techniques live with real people, tackling real issues.
The Science of Coaching
Harvard Medical School maps science to Co-Active coaching.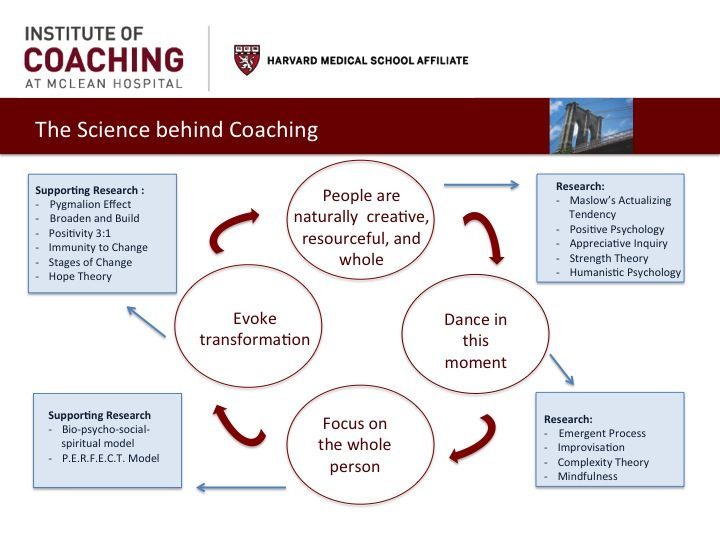 "CTI offers a gold standard of coach training, and the Co-Active model behind it is remarkably congruent with a vast body of research in positive psychology and coaching. As business, health and personal coaches begin to master and articulate these messages, we believe it will create inroads for more individuals and organizations to see the value and validity of coaching."
"It's exciting to see how the entire field can be uplifted by connecting science and theory with the spirit and practice of coaching. In the future, results will continue to show how science can be mapped to CTI's Co-Active model and their four cornerstones of coaching."
—Dr. Carol Kauffman, founder and director of the Institute of Coaching and faculty of Harvard Medical School for over 25 years
The bible of coaching guides
Co-Active Coaching Book 4th edition
Co-Active Coaching—The Proven Framework for Transformative Conversations at Work and In Life has proven time and again that it's an essential "must-read" for coaches everywhere. Over 100,000 copies sold globally.
Read the book
Register for Fundamentals of Co-Active Coaching
100% Guarantee
The best investment in you
We want you to be completely comfortable with your decision to embark on your Co-Active training journey. We are so confident in our ability to deliver value, that if you are not completely satisfied after completing the 2.5 days Fundamentals of Co-Active Coaching course, we will refund 100% of your money back – guaranteed.
Register for Co-Active Core Curriculum
.
Co-Active Professional Coach Training
2
Select Courses
Save when you purchase
these courses as a package!
Additional registration options
Fast Track: Complete Training in 2 Months

Preset Fast Track schedules are designed to allow you to complete the entire Core Curriculum in 2 months. Offered in select cities only.
Learn more about Fast Track options
A la Carte: Variable Duration Training

There are special circumstances that might require purchasing each course a la carte. Although this option doesn't provide the cost savings available by purchasing a package, it's offered for those who would be accommodated better by purchasing courses one at a time.
Learn more about a la carte purchasing
Co-Active for Organizations
For over 25 years, CTI has been setting precedence for the business application and benefits of coaching within organizations, training over 62,000 leaders worldwide, at a third of the Fortune 100 companies. Co-Active provides the agile leadership models necessary to close the gap in multi-generational workforces, increase talent retention and gain a competitive advantage by providing leadership skills to employees that improve relationships and longevity.
Programs include
Coaching skills for business leaders / Building coaching cultures / Executive coaching
Contact us to learn more about how we can bring Co-Active coach training to your organization.
Contact us