Co-Active joins Coaching For Everyone in new fellowship program for BIPOC individuals
Over the past year, the Black Lives Matter movement made it clear that the leadership development and coach training industry has a lot of work to do in creating equity. As CTI continues to step into commitment and action to better account for marginalization and oppression, and to include all lived experiences, we are uplifted by our industry peers and our community in their efforts to create a new, equitable world.
One of the inspiring things to emerge in 2020 was Victor McGuire's incredible non-profit, Coaching For Everyone. The organization was born out of his passion for lifelong learning, adult education and leadership development, along with his desire to serve under-resourced populations. As the world awoke to racial inequity, he saw a window of opportunity to change the face of the coaching industry and make it more accessible to everyone. He launched Coaching ForEveryone to provide complimentary coaching and leadership services to traditionally under-resourced populations, particularly BIPOC young adults, K-12 educators, and nonprofit employees.
We are so proud of the community of Co-Active faculty, leaders and coaches who have supported Victor in his mission from the beginning, by donating money and by volunteering time and coaching services. We believe that when leaders embark on quests, they need leaders behind to serve their vision. After seeing the groundswell of support for Coaching For Everyone from our community, CTI began a conversation with Victor about what more we could do and who we could be to serve his mission. He asked if CTI would provide the Co-Active Coach Training & Certification for Coaching For Everyone's Coaching Fellowship Program, which offers free training and coaching opportunities for BIPOC individuals who want to become certified coaches. We are honored that our conversations have led us to form a partnership that will support Coaching For Everyone's program and vision to make the coaching industry more inclusive and diverse.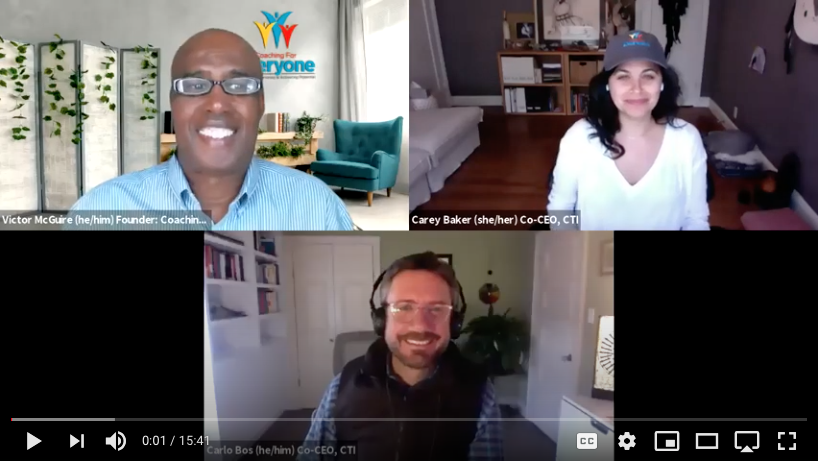 We recently recorded one of our conversations with Victor so that more of our community could get to know the leader in front of this generous and important quest, which, in his words, began with these powerful questions:
"What would it be like if people who looked like me received the same level of coaching that I just delivered? How much would it change the trajectory of their life? How would it impact the people in their world if they had some experience in coaching?"
While there are already wonderful leaders who identify as BIPOC, access to professional coaching or coaching certification is limited. This is because the cycles of socialization have limited what these communities can live into due to a lack of resources (both money and opportunity), exclusionary language and an absence of role models. Coaching For Everyone is committed to ensuring that greater access is created for BIPOC individuals by providing free coach certification that is delivered in cohorts of their peers and led by people who better reflect their identities.
"From the fellowship program, individuals will learn that there's an opportunity for them to actualize their dream of being a professional coach and impacting people in their world in significant ways," said Victor.
One of the most exciting parts of the fellowship is that while it changes the face of coaching by creating more access, it's also moving toward changing the industry at a systemic level. As more BIPOC individuals receive coach certification, they will ultimately go on to become trainers. Over time, this will change the way training is created and delivered, empowering underrepresented identities to train generations of all backgrounds and to share their lived and learned experience.
Coaching For Everyone's fellowship program will start with two pilot cohort groups, launching in North America on April 29 and May 18 of this year. The pilot groups will welcome 45 participants, who will go through CTI's online Coach Training & Certification program. The fellowship will officially launch in October 2021, with the goal of certifying 100 coaches in its first year.
We hope that after reading this post and watching the video, you'll feel an urge to support this opportunity to change our world and work together. Here are some ways you can point that energy:
If you're a BIPOC professional in an under-resourced community and are interested in earning your coach certification through Coaching For Everyone's Coaching Fellowship Program, we invite you to apply.
If you live in an under-resourced community and are interested in receiving coaching from BIPOC coaches, you can apply to receive complimentary coaching.
If you'd like to serve Coaching For Everyone's mission to create a coaching industry that accounts for and includes everyone, please consider making a donation, through the Coaching For Everyone donation page.
Our thanks to Victor and the entire Coaching For Everyone team for leading in front and including us as one of the many leaders helping you make your vision real. We are honored to be your partner in this beautiful quest!
Love,
Carey Baker, Co-CEO, CTI
Carlo Bos, Co-CEO, CTI